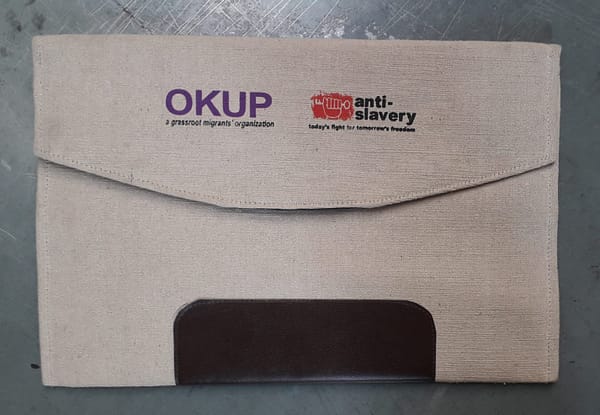 Jute File Folder:
A Unique product to manage all your documents in one place at the same time reflecting your style quotient & elegance. It has pockets on both sides to conveniently store all your documents separately. Suitable for presentation, interview, office, College & home purposes.
We are the leading Jute File Folder for Conference, Certificates & Documents holder supplier in Bangladesh, Dhaka. Our Jute File Folders are eco-friendly, elegant designs Appealing looks Light in weight Optimal strength Smooth Finish Everything is Handmade, and Features a Stylish and simplistic cover perfect for any business professional. Jute File Folders are widely used in conferences, seminars, and meetings these folders are sure to catch everyone's attention and keep stuff organized and secure. Jute File Folders are designed in such a manner it is so easy to carry the documents anywhere without dropping and the front view of the folder makes it perfect for carrying meetings. In this Jute File Folder for Conference, Certificates & Documents holder for certificates, you can store your important paper and documents.
Our Corporate Jute File Folder is Reusable, Biodegradable and 100% Eco-Friendly- Mehram Creation | Unitex Industries Ltd.
Product Description
Jute File Folder:
The eco-friendly Jute File Folder is surely spacious and light. They are especially easy to carry around and comfy to carry lots of things in them. Since it looks trendy, it is a favorite accessory of Corporate Personnel as well. Steeped in order to happy colors and breezy or geometrical prints. This Jute File Folder has become a favorite accessory for stylish men and women to carry with them.
Jute, also known as the "golden fiber – is a natural fiber that has provided a reprieve. It's used to make a variety of items which include sacks, curtains, furniture accessories, and rustic-looking jute file folders. The fiber is made from plants with long, soft, and shiny fibers spun into strong but coarse threads.
Description of Jute File Folder:
We are a manufacturer and exporter of various types of Eco-friendly Jute File folders. We make File Folders with Jute and Juco. Actually, all file folders have both options like a zipper and without a zipper, and can be customized accordingly.https://www.quaderijute.com/shop/page/5/
This ecological and organic jute file folder a4 size is a very well-designed, elegant, and traditional handmade craft that can be used for corporate, academic, casual, and personal. Even, you can also use this for a gift purpose. Moreover, the design and color of this document holder highlight the Bangladeshi tradition, heritage, and culture too.
Design and Colour of Jute File Folder: 
We make our product with numerous trained experienced Pattern Designers. On the other hand, Our product is a comparatively low price in Bangladesh in fact, considering the needs and tastes of the buyers while its quality is ensured through various types of checking processes. In the same manner, we have been keeping various samples since we started our production start of this product.
High-Quality Material and Fitting  
We manufacture our products of good quality and are controlled through an efficient quality control process. Actually, the materials used for the production of this jute document organizer bag are 100% high-quality jute fabric, and board with accessories. Similarly, we frequently develop quality through our expertise and observation from our customers. In the same way, we take our customer's suggestions and opinions.
Benefit for Money: 
Through the use of the latest technology and the application of strategic and advanced management, "Quaderi Jute" is able to save on the production cost of all its products. Therefore, we assure you that you have saved money in the right place by purchasing our latest well-designed products. However, our product price in Bangladesh is the best for all.
Lovely Gift:
This jute file folder a4 size is lovely and its gorgeous look makes it a surprising and attractive present for you to send to your loved ones especially your daughter, son, sister, mom, girlfriend, and friends on birthdays, anniversaries, Valentine's Day, or furthermore any other occasions. Therefore, you also can make your loved ones happy by sending them this masterpiece as a souvenir gift.
Several Occasions: 
This handmade stylish product is suitable for multipurpose usages, such as business meetings, interviews, and even regular workings, etc. The paper holder file for handmade gifts is one of the unique arrangements of "Quaderi Jute"  in the continuation of work. In conclusion, if you feel tired of using official and boring file folders for documents, therefore, this exclusive file holder for the office is a must-buy for you.
Huge Space:
The dimension of this file folder a4 size is 14 x 10.5 x 1 inch in height, length, and width, as a result, huge enough for you to store your certificate and letters, identity cards or passports, driving license, deed of documents, and important documents so on. In addition, inside there are two inner pockets on both sides. For this reason, you can hold your documents safely in place of the file folder organizer.
In the end, we hope soon, you will place an order as an example of a user of Biodegradable and eco-friendly products and ultimately becomes our beloved customer.